"I like to pursue a career in content writing"- said the guy. "There is something like that too? " was the immediate response he got. (pun intended). Jokes apart, many people are still unaware of content writing, various content writing platforms, and related career options. So, let me first describe what is content writing. Content writing, or content creation, as some say, is the contemporary method of generating content for the online crowd through blogs, articles, newsletters, email writing, technical writing, medical writing amongst others. Before we dive into the top 20 content writing platforms, as in our agenda, let us look into some pointers that give more insights on content writing.
Why choose content writing as a career option?
"There is no greater agony than bearing an untold story inside you." – An inspiring thought by Maya Angelou, who was an American poet, and civil rights activist.
Like I said at the beginning of this blog, Content writing is still an unfamiliar career option to many. Some people are driven to content writing through their passion for writing, love for the language, and so on. But some choose content writing when they run out of other career options. Either way, Once you step foot in this domain, you'll understand that it is not just the creation of content that matters but also building an identity and niche for yourselves. This way your ideas reach a larger crowd through your language. It's fun, hard work, creativity, and an indelible online presence that adds glory to this field. If you are up to it, then content writing is your thing! So, start blogging and browse through my list of top 20 content writing platforms.
How to become a content writer,what are the various content writing platforms?
A professional writer is an amateur who didn't quit."- another inspirational thought by Richard Bach, an American writer, and creator of the much-published book ' Jonathan Livingston Seagull'.
Are you passionate about writing? Do you have a good command of the language? Are you an ardent reader? If yes, then you can surely become a content writer. But, to become a crackerjack at content creation, it is always better to do a course in content writing. A course that offers all the technical and general know-how plus one that gives some hands-on training experience in the domain is the best. One such course is the Henry Harvin Content Writing Course. The major features of this online course are:
36 hours of live instructor-led training, after which you earn the CDCW certificate

Internship after the course completion and 100% placement assistance

1-year gold membership during which several bootcamps and personalized job notifications.
In addition to the above, Henry Harvin also offers post-graduate courses in content writing and specialized courses like technical writing, medical writing amongst others. For details visit – https://www.henryharvin.com/content-writing-course
Guidelines to become a stupendous content writer and access to freelance gigs from the top 20 content writing platforms
If you are an amateur in the field of content writing, this is exactly the time to hit on a course that provides you with all the necessary paraphernalia of content writing.

If you know the inside story of content writing, then why wait? Go ahead and create some awesome pieces as a start.

Try to get gigs form the list of top 20 content writing platforms given below.
Elements of Content Writing
In addition to the knowledge cultivated in content writing via either of the above ways, you must have an encyclopedic knowingness of how the domain works. As an example, Keyword research helps in finding that apt keyword for the content you create. Likewise, SEO, Topic research, content strategy are all pertinent elements to exceptional content creation. Content writing is like weaving a fabric wherein, all the threads or the elements should be spot-on for amazing and smooth content.
Publish the content
The first and foremost trick is to create a suitable niche for the targeted audience. That should be in compliance with the answer to the purpose of the content i.e. reach the targeted audience and sell, simple as that!
There are innumerable online and offline publications available and you choose the best suited based on your requirements.
Now that we gathered some bits and pieces of content writing, let us discuss how to start doing this. Here comes the original objective of this blog i.e. various platforms for content writing. These platforms or outlets I list here help in publishing one's content online. So, let's jump into the list of top 20 content writing platforms, Shall we?
1  Upwork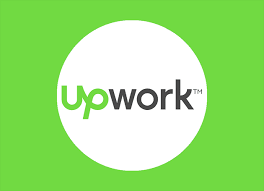 Upwork has the most inspiring tagline– We see what you do. This is the first in the list of the top 20 content writing platforms.
The most eager and competent content writers can freelance their content writing to an elite clientele. Upwork acts as the pavilion where the clients hire potential freelancers and freelancing agencies. The process is simple-Upwork aids in hiring, interviewing, and working as a freelancer with a client. The client puts up their requirements and pay scale for the job and invites freelancers to apply for it. They then choose and hire the freelancer and assign the work. Upwork even has a time-tracker application wherein they record the mouse movements, keystrokes, and screenshots of the freelancer and pass it to the client. This way hassle-free yet efficient working is ensured.
Website: https://www.upwork.com
2  WritingAccess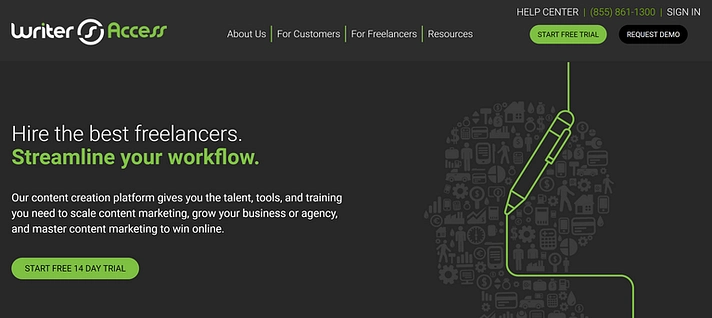 Established in 2000, as lifetips offering tips in content writing by freelancers. They use the newest of technology in hiring and managing the workflow. Substantial growth in the following years with more than 25 lakh projects delivered, 20000 clients, 40000 freelancers, WritingAccess is one of the best Content writing platforms.The process of getting hired is
Create a portfolio

Followed by connect with clients

Explore the gigs and opportunities

Screen your work

Get placed as a freelancer
The best feature is most freelancers get placed within 24 hours. It is a resilient content writing platform that hires only highly creditable content writers.
Website: writeraccess.com
3 Textbroker
Textbroker boasts of satiating the hunger for custom content. They are providers of unique content to their clients so that they could drive traffic to their content. They encourage various authors from different domains to create unique and quality content by rating them and providing them with substantial compensation. Blogs, social media posts, newsletters, press releases are some of the content writing streams within their compass.
Some of its features are- free registration, flexible timings, direct access to projects, free access to tools, weekly payments, and so on. The steps for content writing are
Register

Submit a sample

Get rated

Complete profile

Finally, earn through writing.
Website: www.textbroker.com
4  Contena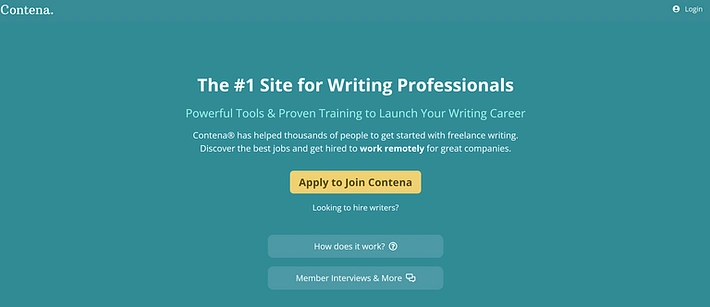 Contena is paid content writing platform. You pay and get a membership and they help start your writing career, a kind of win-win situation. It provides flexible timing and a remote working environment for content writing. The process involves a filling of a questionnaire followed by an email from contena for the invite to join the community. The email is also enriched with the secret guide for Contena's writing niche and bits and pieces of content strategy and content marketing. Finally, send an email to activate the membership and pay for it.
Just a simple drawback that I found for this site is the website carries little info on the various programs. When you pay for the membership, you also get free access to writing coaching too. The job listings consolidate all the recent job openings to a single job board
Website: www.contena.co
5 ProBlogger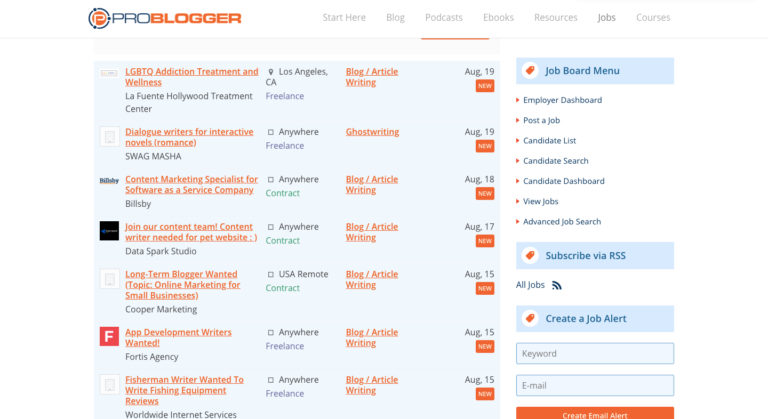 An article on blogging motivated Darren Rowse to start blogging. From a part-time blogger to a full-time ProBlogger, Darren Rowse's journey is phenomenal. When you visit the ProBlogger website, you can go through a versatile range of blogs published there. The above picture shows a snap of various job listings in the ProBlogger. From blogging on Anime Geek to some serious Content writing this platform offers the most versatile kind of opportunities. You don't need to register to ProBlogger to apply for the jobs. You can directly select and apply. Most jobs are for experienced content writers.
Website: www.problogger.com
6 Bloggingpro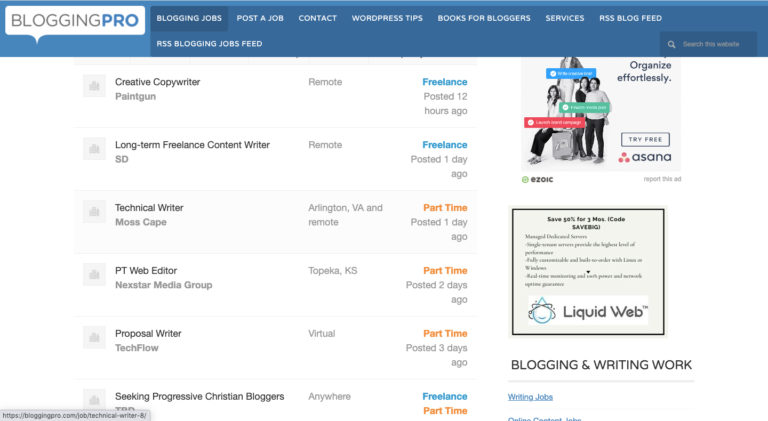 Starting in 2006, It ranks as one of the most revered blogging sites of all. The job listings get updated regularly and this is one of the first sites for content writing you must look for. Unlike Contena, this is a free site where you needn't register to apply for the job of your preference. The job listings usually carry information of the payment details.
Website:www.bloggingpro.
7. Fiverr

Fiverr adopts the marketplace scenario to its online Gig providing platform. Graphic design, Writing, Programming. Video editing, Translation is the services they offer. It is a free site with 80% of each gig that you get coming to you. First, you need to sign up, then put out your gig there. You are notified when you get the gig and through the Fiverr platform, you can discuss the gig. They pay you when you complete the gig.It is an easy-peasy process. The specialty with Fiverr is the variety of works you can do through it. From content writing to voiceover artists and musicians, they have an awesome set of satisfied freelancers.
Website:www.fiverr.com
8. Contently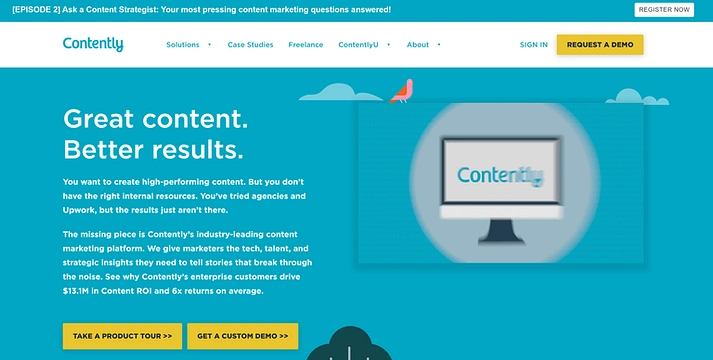 As the name says it all, it provides absolute contentment in Content writing. It is a content writing platform where the analytics constantly alerts the writers to update and improve their content. They provide content to big-shot companies like Marriot, American Express, Dell technologies to name a few. Most of all even freshers without much experience in content writing can also apply. You can always track the worth of your content so that you always stay in the game without straying a bit. The process of joining is very simple. Just sign up with a credible portfolio that showcases all your work.
Website:www.contently.com
9.iWriter

iWriter grades the content from standard to elite plus using their unique algorithm. With this unique grading, iWriter helps you connect with top-notch content buyers. It boasts of serving the content at a faster speed as compared to other content writing platforms. Product reviews, articles, etc are their expertise. No fixed time schedule for each day and choosing topics that you are comfortable writing with are a few of the add-ons. Submit two short articles which are reviewed and the result send to you in 5-7 days' time.
Website: www.iwriter.com
10. Skyword– halfway through our list of top 20 content writing platforms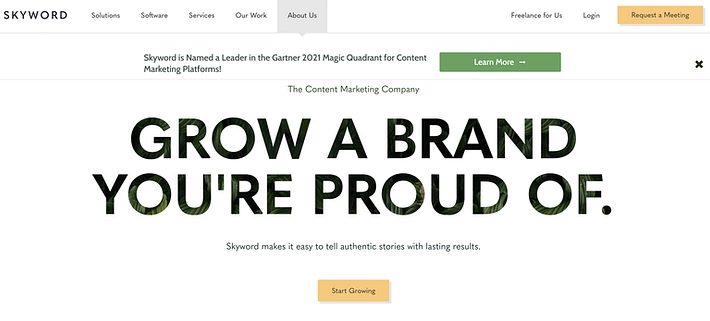 Skyword also comes with analytical tools which constantly keep the wow factor in your content They provide freelancing in Photography and videography are other than content writing. from time to time they help update your portfolio and help stay connected with the global audience they share your portfolio with potential clients so that you get the opportunity to work with them. Just register in Skyword submit your work and wait for the review.
Website: www.skyword.com
11.ClearVoice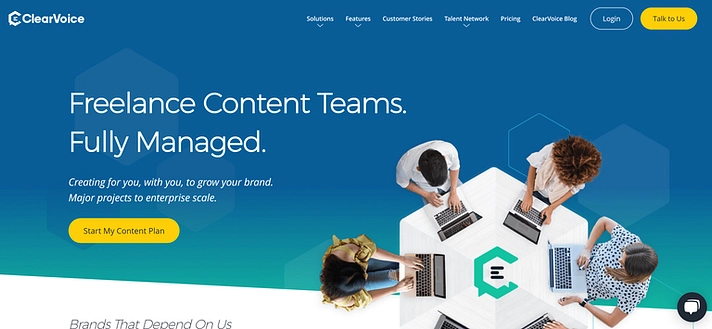 This content-writing platform is a network of freelancers in itself. Any business that needs content can surf through this network and find its content creator. Its main feature is the coalition between the content creators and businesses which is 100% ensured by ClearVoice.Just free registration leads you to the next step of creating a CV with at least six links to the content writing work you have published. In addition to this, they constantly improve your ClearVoice Cv for better opportunities in the future. You can even communicate with the clients through their apps too.
Website:www.clearvoice.com
12. MediaBistro
This is the online job board exclusively for the media jobs like HBO, the Fox Corporation, and Daily Mail amongst others. It is very Industry-specific and you need to put a lot of effort into perfecting your resume to land a freelance gig in MediaBistro. You get a membership and get access to numerous online courses, regular evaluation of the Linkedin profile, and tools to upskill are the added benefits. Moreover, you get a chance to freelance with big shots like HBO, PBC, etc.
Website:www.mediabistro.com
13.SolidGigs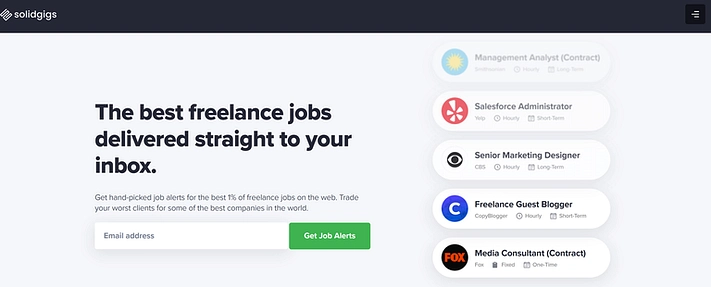 SolidGigs offers customized freelance projects to freelancers. In other words, the freelancers give their yardsticks, and based on that, solidgigs provides the probable clients for you. This is the opposite of the run-of-the-mill practice where the client hunts for the freelancers in a common forum. You sign up in solidgigs and get the leads. You need to pay for signing up. The details are on the website. Along with newsletters of various gigs, they also send insights on how to turn these into money.
Website: www.solidgigs.com
14.WorkinginContent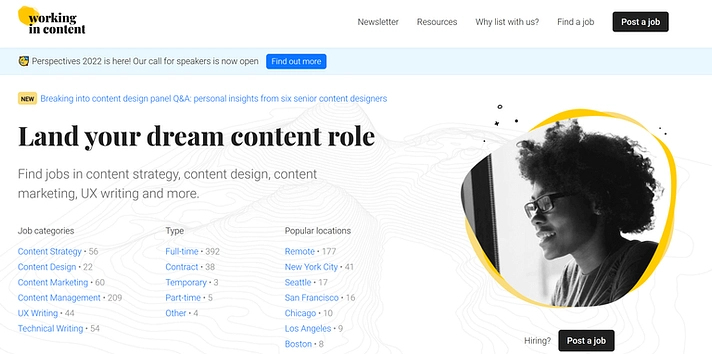 WorkinginContent offers job opportunities for content writing, content strategy, UX Writing, and so on. It is not just a job board with a list of jobs but you can apply without registering on the site. The jobs are categorized on the basis of roles, location, type like part-time/ full-time/ contract type, etc. Facebook, Uber, Amazon, Google are some of the hirers from the WorkiginContent portal. You can find a great number of job opportunities in content writing on this platform.
Website:www.workingincontent.com
15. Compose.ly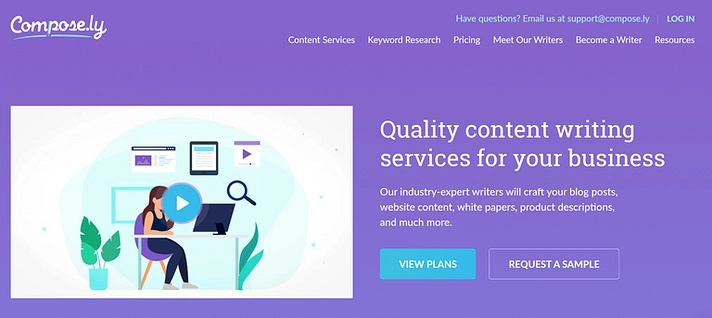 Compose.ly hires only the best in the content writing domain in order to ensure full customer satisfaction. The applicants pass through very rigorous testing before getting accepted into this content writing platform.SEO is their specialty. For the same, they train their writers to optimize their content for the search engines during and throughout the writing. Moreover, high-end tools create an awesome experience for the content writing and the client as well. Sign up, create a CV, Submit your work and find jobs are the steps involved in working with compose.ly.No membership fee charged to register in compose.ly
Website:www.compose.com
16. Guru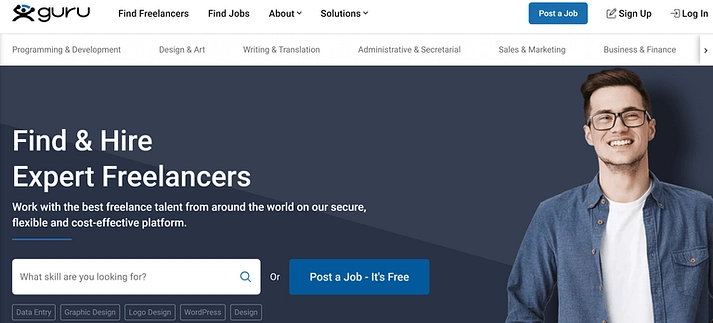 Guru is an online content writing platform and an exclusive job portal for freelancers in multiple fields like engineering, Business, finance, Design, Art, Writing and translation, etc to name a few. Only freelancers verified by Guru are eligible to work with them. This way they keep up the quality of the service provided. Multiple payment techniques and flexible agreements are some of the other features added to their realm. You send a quote after selecting a job profile from the job listings. You don't need prior experience to set up a profile or sign up in Guru.
Website: www.guru.com
17. All Freelance Writing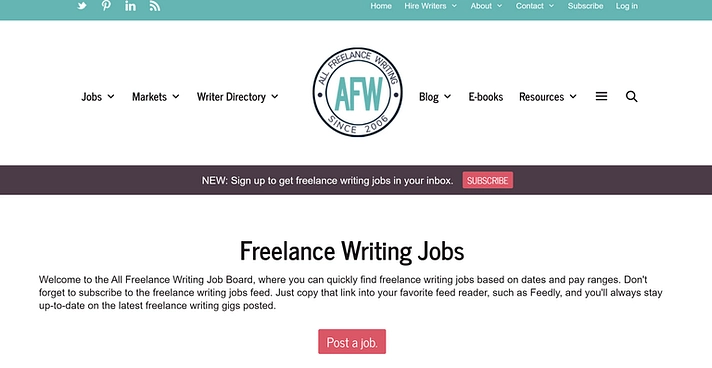 All Freelance Writing is a job bulletin exclusively for Freelancing in content writing. It is an organized website providing details for all freelance writing jobs and they categorize these jobs based on payment offered. The way we select dresses from an online shopping site, the same trick we apply here i.e. just enter the details of the kind of gig you are looking for and wait for the best list to appear. You add your details to the writer directory and apply for the jobs, no need for a sign-up in this content writing platform. Keyword tools and rate calculators are bonus features.
Website; www.allfreelancewriting.com
18. Content Writing Jobs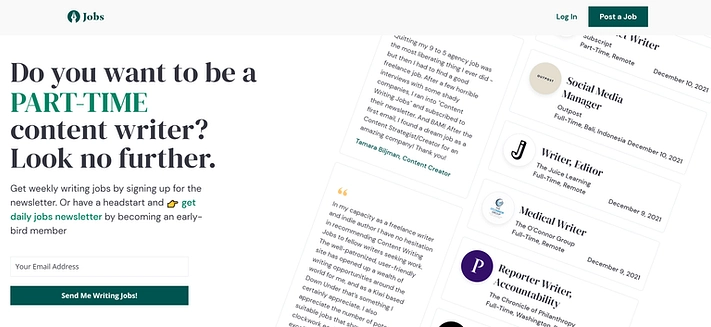 Content writing jobs is a job board with a list of all kinds of content writing jobs- full-time, part-time, freelancer, etc. registration is free in this content writing platform, they charge $ 10/month for newsletters in your email though. You can filter the jobs based on your requirement of location, type, level, and category. They also add new jobs daily. The testimonials by various users claim to have got more practically suitable job roles through this content writing platform.
Website: www.contentwritingjobs.com
19. The Writer Finder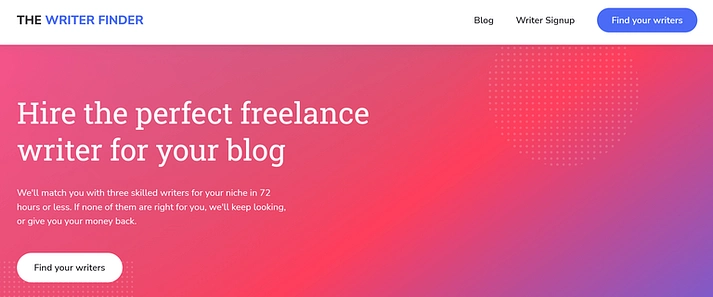 The writer finder hires any kind of writers with any niche for the clients They provide three writers for each client based on the client's criteria. They employ writers from artificial intelligence to dogs and family, genre content writing. 'Growth machine' is their database of freelance content writers. They promise a steady flow of projects with good pay as a pull-out to their original features. You apply to this content writing platform with three links to your original work.
Website: www.thewriterfinder.com
20. Freelancewrting.com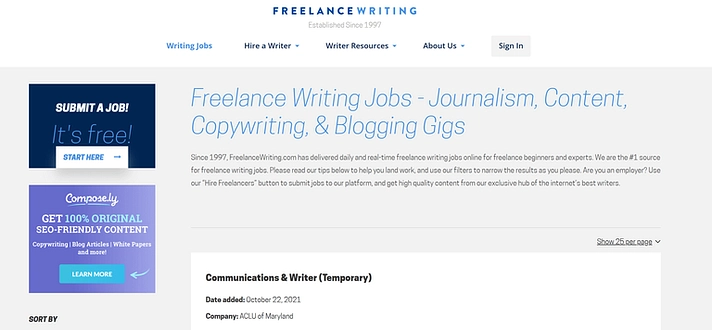 Imagine a writer's board dated as back as 1997. That is what is Freelancewriting.com is about. Press releases, email newsletters, blogs, product descriptions, etc are some of the services offered by them. You apply to this content writing platform, for job listings are done through Indeed, so sign up in Indeed too. They offer many writing contests to improve and brush up on the skills once you get into this content writing platform. This is the last in my top 20 content writing platforms.
Website:www.freelancewriting.com
Inference
Content writing is a novel yet burgeoning domain. It is a misconceived idea that this domain doesn't pay well. But, recently it has gained huge popularity because of more online content writing platforms and opportunities with end result being a substantial demand in the domain.
I listed the top 20 content writing platforms above, many more like LinkedIn, Instagram, Facebook, pepper content are there among the others.
I hope you got a contour of content writing platforms and cognate areas. A penny for your thoughts, like to hear from you in the comment section.
Recommended Reading